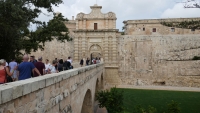 Mdina, also known by its Italian-language titles Città Vecchia ("Old City") and Città Notabile ("Notable City"), is a fortified city in the Northern Region of Malta which served as the island's capital from antiquity to the medieval period. The city is still confined within its walls, and has a population of just under 300, but it is contiguous with the town of Rabat, which takes its name from the Arabic word for suburb, and has a population of over 11,000.
Mdina remained the centre of the Maltese nobility and religious authorities (and property continues to largely be passed down from families and from generation to generation), but it never regained its pre-1530 importance, giving rise to the popular nickname the "Silent City" by both locals and visitors. Mdina is on the tentative list of UNESCO World Heritage Sites, and it is now one of the main tourist attractions in Malta.
All pictures on this page was created on Oct, 02, 2021.